You ever hype something so much in your head and when it comes to fruition, you realise your imagination made it seem so much better than it actually is?
Well, that doesn't happen very often to me and it happens even less often when it concerns food!
So imagine my surprise when I had a craving for some chicken, and set about satisfying that craving as my soul dictated, and yet…I…did not enjoy it.
My soul wasn't satisfied.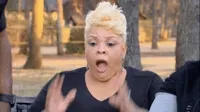 I seriously debated posting this recipe, but my sister encourage me to do so as, in her opinion, the chicken was quite delicious.
I don't know exactly what it is about this particular recipe didn't do it for me, but maybe one day I'll revisit it and find out.
Perhaps I'm being a touch too critical of myself…who knows eh?
Ingredients used:
Chicken Thighs
Seasonings

1 tbsp Sesame Oil
2 tbsp Soy Sauce
1 tbsp Honey
2 Garlic Cloves, chopped finely
30g Ginger, chopped finely
1 tsp Crushed Chilli Flakes
2 seasoning cubes (Maggi/Knorr)
2 tbsp Sesame Seeds
Prep time – 10 mins
Method:
Wash the chicken in warm water with a splash of vinegar
Put the chicken, sesame oil, soy sauce, garlic, ginger, seasoning cubes and chilli flakes in a bowl and mix together until all the chicken is covered.
Leave to marinate for 10 minutes.
Cooking time – 45 mins
Cooking:
Preheat the oven to 185 degrees (gas mark 4)
Place the chicken in an oven-proof deep dish skin side down and leave to bake for 20 minutes.
Turn the chicken thighs so the skin is facing upwards and glaze with honey and sprinkle the sesame seeds on it. Put the chicken back in the oven to cook for a further 15 minutes.
Remove from oven once the juices run clear and the skin is nice and crispy.
Enjoy!
Extra tip: garnish with fresh spring onions for an extra kick!